This is an ALaN Network project funded by the WA Department of Training and Workforce Development and being carried out by C Y O'Connor Institute.
The aim of the project is to create an online "course" providing information and scenarios for decision making about using CAVSS, promoting greater understanding of the CAVSS Business Rules for all managers.
Two on-line surveys, one for CAVSS managers and one for CAVSS lecturers, have been conducted and responses analysed. Responses to these survey have helped us identify the skills and knowledge that are key to undertaking the CAVSS Manager's job
The surveys show areas of concern that can be grouped under three main issues:
Expecting that CAVSS will solve every problem
Lack of systematic process to ensure that team-teaching model is set up and then monitored
Failure to understand and value the skills and knowledge profile of the literacy/numeracy teacher.
CAVSS Business Rules that are most difficult to comply with are graphed below. Rule 13, Selecting teachers to deliver CAVSS, being the most difficult.
The surveys show we need to highlight the importance of having the right teacher… not just another vocational lecturer.
The development of the on-line course is well underway and will be trialled before launching. We are creating the course with Articulate Storyline – a rapid e-learning development tool.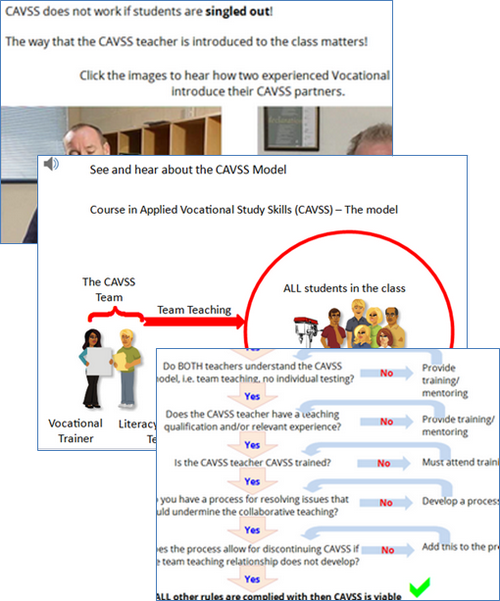 With this tool we can create interactive content using quizzes and scenarios as well as a variety of images, video, text and audio.
Lina Zampichelli